The Child Development Laboratories at the University of Ottawa are looking for children from 3 months to 8 years old to participate in studies.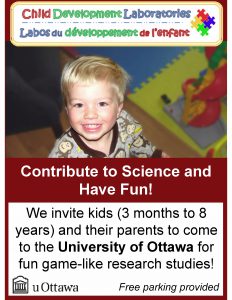 The studies are designed to be game-like and fun for children looking at things like language, cognitive, and moral development.
F
ree parking is provided while you are the University and your child will receive a small gift for helping out with our research.
Many appointment slots are available, including weekends. Most of the studies involve only a one hour-long visit.
How to contact the Child Development Laboratories at the University of Ottawa