With the celebrations of Canada 150, this years Busker Fest is set out to be an incredible edition with an amazing lineup of performers as well as face painting, balloon artists, music and more!!
The Ottawa International Buskerfest will be taking place on Sparks Street for the 26th year from August 3rd to 7th! World class performers from all over the world will grace and amaze children of all ages as well as adults!  Prepare to be enthralled by acrobats,  fire-breathers, contortionists and more.
Some of this years performers will be:
HASA: The Aerial Space Show which takes the audience on a journey through space using an aerial rig as a spaceship
Circus Firemen who turn up the heat with high energy acrobatics, red hot juggling, and searing Australian comedy
The Big Wheel Show where Hannah one of the world's only female street performers will be contorting through rings, hula hooping and rolling about, she turns upside down and round and round
Becky Hoops who hoops in an unconventional, quirky fashion, using parody and humour to touch the public.
Zap Circus which is a high energy circus and fire duo!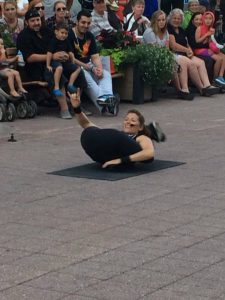 For more information, the official website.