To celebrate Canada's 150th, CP will be hosting a family friendly event on Sunday August 20th from 3 to 6pm at VIA Rail Station in Ottawa.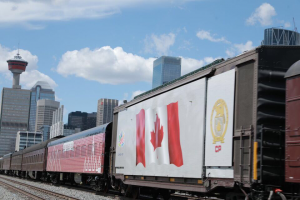 On August 20th, the Heritage Train will lead more than 10 restored Royal Canadian Pacific heritage cars including the Spirit of Tomorrow car signed by children across Canada.
This free family friendly event will include a Kids Craft Station, a Snack Station, a CP History Walk, and a miniature train that will offer rides. There will also be live entertainment with several Canadian singers and World champion hoop dancer Dallas Arcand. And don't forget to take part in decoration the railcar "Spirit of Tomorrow"
The event will take place on Sunday August 20th from 3 to 6pm at the VIA Rail Station on 200 Tremblay Road in Ottawa.