The Gatineau Hot Air Balloon Festival 2017 will be held from August 31st to September 4th 2017 at La Baie park in Gatineau. Come with your children to watch a spectacular hot air balloon lift off or simply enjoy any of the 300 shows and activities offered during the weekend.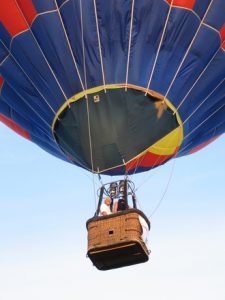 Family activities include:
Five inflatable play structures
The Gatineau Playground Festival Zone
The Repti-Zone where you will be able to discover snakes, lizards, scorpions, spiders, turtles and alligators
Altitude Gym will have a climbing wall
Face painting
Watch a demonstration of skydiving
Become a superhero with Fetes en Boites!
If kids are seeking some thrills, there is always the amusement rides – at an extra cost – that includes rides such as the Free Fall or the Ferris Wheel. There are even rides for the tots in a special area set up just for them.
There will also be tons of kid friendly entertainment on the Family Stage with music, dance and magic including PAW PATROL on Saturday September 2nd at 11:30am, 1:35pm and 3:30pm as well as CAILLOU on Monday September 4th at 10:30 and 2pm.
Be sure to stay for the fireworks Saturday around 10:15pm!
For more information on the Gatineau Hot Air Balloon Festival 2017, the official website