Saunders Farm, located in Munster, has one of the largest collections of hedge mazes in North America and this year, they are pleased to announce the opening of the Canada 150 Corn Maze.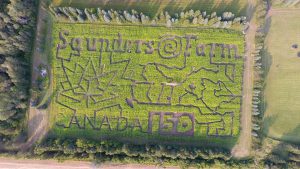 The Canada 150 corn maze is a giant 4 acre maze. The design includes a map of Canada, the 150th logo, as well as the Saunders Farm logo. There is also a Canadian trivia, games, puzzles, mailboxes and an observation bridge located throughout the maze.
Thursday August 31st, you can even try to solve this maze in the dark with a flashlight!
Once you're done visiting the maze, you can enjoy 11 other mazes, hayride adventures, puppet shows, play structures, jumbo jumpers and much more! Tons of fun for the entire family!
In order to visit this amazing maze, Saunders Farm is open Tuesdays through Sundays from 10am-5pm during the rest of summer.  The Farm is closed on Monday but will be open Labor Day Monday.
For more information, Saunders Farm official website