KidMascots presents a PJ Party with the KidMascots on Saturday February 24th 2018 from 4 to 6pm at Cedarhill Golf Course in Barrhaven.
Put on your PJ's and slippers and come enjoy an evening full of fun and activities with your children and the KidMascots at Cedarhill Golf Course.
The PJ party includes:
dinner
dancing and games with the KidMascots Characters
a special bedtime story and activity.
The cost is 35$ for one child and one parent and includes dinner. An additional ticket for a 2nd adult OR child can be purchased for $17.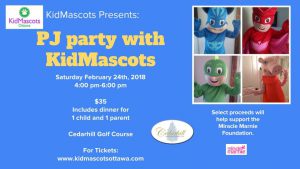 Select proceeds will help support the Miracle Marnie Foundation! After their last event, 585$ were donated!
For more information or to purchase tickets, KidMascots official website.