Come to Carlingwood Shopping Centre on August 10th and 11th for a morning of learning, tasting and fun at Learn about Bee's with Nature Made Honey.
Despicable me 3 will be playing at Balena Park on Friday August 10th starting at 7:30pm. Free snack to be provided by South East City Church, the movie will start after sunset.
Come out to see the Changing of the Guard ceremony on Parliament Hill on August 10th, 11th or 12th. Ceremony starts at 10am!
Storytime at Rideau Hall Friday and Saturday  from 1pm to 3pm, Frontier College volunteers invite the general public, families and youth groups to settle in under the Reading Tent to read books and to participate in fun literacy activities.
The Sound and Light show Northern Light will be presented on Friday, Saturday and Sunday at 10pm on Parliament Hill. A must see this summer!
Free Zumba on the Parliament Hill on Sunday July 22nd from 3 to 4:15pm. Don't forget your water and your smile! Open to all ages.
The Casino du Lac-Leamy Sound of Light will be on this Saturday August 11th with a firework display from Germany: "The Cinematic Odyssey". The fireworks start at 9:15pm however, the site will open to the public at 6pm and there will be lots of performances for the whole family to enjoy in the animation area.
The Navan Fair will be on from August 9th to 12th with a demolition derby, a midway, Littles Ray's Reptiles, President's Choice SuperDog Wild, Wild Woof Show, a parade, a baby show and much more!
The Williamstown Fair will happen August 10th to 12th and will have an inflatable midway for kids 3 to 12 years old.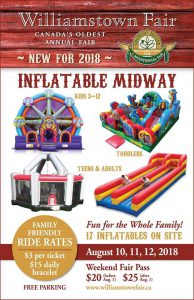 The 13th Annual Soccer & Fitness Festival will be on this weekend at the CIH Arena in Rockland.
A Compagny of Fools presents the 16th Annual Torchlight Shakespeare. The Twelfth Night by William Shakespeare will be playing at Centrepointe Park on Saturday August 11th at 2pm and 7pm.
Come out to see an Ottawa Champions Baseball Game with great themed nights. Saturday August 11th, it will be Star Wars night and there will be fireworks and Sunday August 12th, it will be Champs Birthday featuring the Pyjama Patrol.