Haunting Season will still be open this year from September 26th to October 31st 2020. However, attendance is limited and tickets need to be purchased in advance.
This years outdoor activities will include:
The Haunted Hayride which is mildly scary, but if the kids (or parents) are nervous you can take the pumpkin patch hayride.
Pumpkin Hayride where you can pick the perfect pumpkin from the huge pumpkin patch
7 Hedge Mazes: each maze is designed to test your perseverance and problem solving skills…
Jumping Pillows. They are a big hit with visitors of all ages!
Play Structures: Farmer Bill's Barnyard Treehouse, Captain Aidan's Pirate Ship, Train & Caboose, and our Monster Truck are all custom built and a big hit with younger children!
Witch Mountain is family friendly giant slide!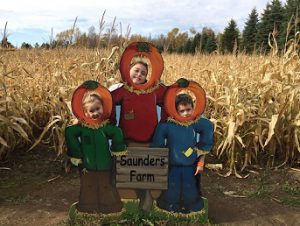 Tickets are 20$ + HST per person and need to be purchased ahead of time as guest attendance is limited to 100 on site at once.
For more information or to purchase tickets, Saunders Farm official website.