Celebrate winter in Ottawa during the Winterlude 2020 festival from January 31st to February 17th.  Three fun filled weekend of activities for the whole family to enjoy!
Snowflake Kingdom at  Jacques Cartier Park in Gatineau will have TONS of FREE activities for children to enjoy with giant games, super slides, a kiddie zone, an obstacle course, shows and meet the Ice Hogs. These activities are open Thursdays from 9am to 4pm, Friday & Saturdays from 9am to 9pm and Sundays from 9am to 6pm & Monday February 17th from 9am to 6pm (closed on Mondays, Tuesdays and Wednesdays).
Does your child want to try downhill skiing or snowboarding? From Friday January 31st to February 17th 2020 (except Monday Feb 2nd & 10th, Tuesdays and Wednesdays) at Jacques-Cartier Park from 9am to 4pm, children aged 5 to 8 can come and try downhill skiing for FREE with a qualified instructor
Come to Jacques Cartier Park to try the mega Zip line 600 feet long at Snowflake Kingdom of Winterlude event. Breathtaking sensations guaranteed! Fee of $ 12 or 1 day unlimited ride $25 (taxes included). Buy tickets online to save. Minimum height of 42 inches & maximum weight of 225 lbs.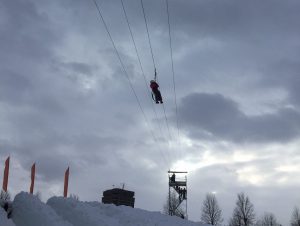 For skating, come on to the Rideau Canal Skateway, the world's largest natural skating rink and rent a pair of skate. You can also try the Sens Rink of Dreams or the skating rink at Rideau Hall.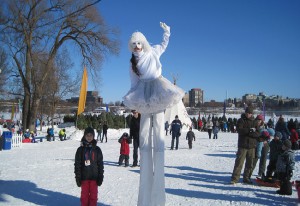 WINTERLUDE 2020 HIGHLIGHTS
Winterlude Kickoff Party will be on Sparks street on Friday January 31st from 7pm to 10:30pm featuring performances by Sarahmée, DJ NDN and Virginia to Vegas.
Saturday February 8th from 9am to 5pm, there will be the 2020 Ottawa Ice Dragon Boat Festival on Dow's Lake. Come cheer on the competitors and live a unique experience! This is a great event for all ages.
On February 8th from 8am to 9am, come to the Rideau Canal Skateway for the Tim Hortons Shinny Hockey Day. Over 100 hockey rinks on the world's largest skating rink where minor hockey teams will have the chance of a lifetime to play a fun game of shinny hockey on Hockey Day in Canada in the Capital.
On Friday February 7th from 7pm to 10:30pm, Saturday February 8th from 10am to 5pm & Sunday February 9th from noon to 10pm come to Marion Dewar Plaza for the ultimate NHL  fan experience. Join Sportsnet hosts Ron MacLean and Tara Slone as they travel across the country, making stops in 25 different communities to celebrate local hockey stories, and the game's biggest stars.
The 2020 Accora Village Bed Race for Kiwanis will take place on February 15th from 12:30 to 2pm at the ByWard Market in Ottawa.
Don't miss the Annual Winterlude Triathlon on Saturday February 1st from 8am to 12pm. This great event is one of the oldest Winterlude activities and exemplifies what winter in the Canada's Capital is all about-skating on the Rideau Canal, coupled with cross-country skiing and running.
Come and admire ice and snow carvings at Confederation Park