Calypso Waterpark is Canada's largest theme waterpark and is located located in the Ottawa area in Limoges.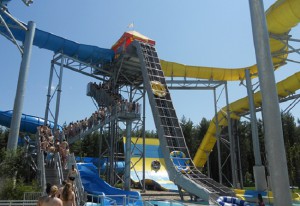 If you are visiting with young children, the best attractions are:
The Zoo Lagoon is the perfect place for young children! The zoo themed lagoon will allow younger children to slide, spray, climb, splash and much more. Best part is that the slides and lagood are reserved for children under 52″!
Pirate's Aquaplay is a great water playground for kids of all ages where they are sure to get soaked! It features sails, ropes, slides and water cannons and much more for hours of fun! Children under 2 years of age must be accompanied by an adult and wear a life jacket.
The Jungle Challenge is a great attraction for children 3 and older as well as adults. It features 3 courses for children and 4 for adults where you complete the course by walking on logs, water lilies and crocodiles while holding on to ropes and nets.
Family Twisters at the Summit Tower features 4 different kid friendly slides: Aqua Snake, Mellow Yellow, Pigtail, Twist & Shout.
Calypso Palace is Canada's largest wave pool.
If your kids are looking for a bit more thrill, we recommend:
The Zoomerang the perfect attraction for the young thrill seekers! The ride will bring you down a steep chute and propel you on the opposite wall. Children must be 3 or older for this attraction.
The Kongo Expidition is a great family attraction that will take you on a mysterious river, through flooded caves, waterfalls and tropical villages. Children must be 3 or older for this attraction.
If you go with small children, remember that Swim diapers are required for toddlers at all times. If you forget them, you can always purchase them at the Calypso's Friends Boutique.
For more information, Calypso Waterpark website