The Sound and Light Show on Parliament Hill is a great event for families with children of all ages in the summer!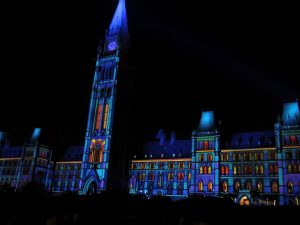 Northern Lights is the Sound and Light Show presented this summer from July 9th to September 3rd 2018 on Parliament Hill . The show lasts 30 minutes and is a great way for you and your children to learn about Canadian history while watching a beautiful and captivating show. Northern Lights is presented through 5 thematic books:
Foundations of the Nation
Strength in Partnership
Discovery and Adventure
Valour
Pride And Vision
The show starts at 10pm in July, 9:30pm in August and 9pm in September.
Spectators are recommended to bring blankets and chairs. You can also bring strollers or wagons for young children as well as snacks.
Good to know: There is no parking available on Parliament Hill however, there are many parking nearby ($$). On weekends, parking is free at City lots and on-street parking meters located within the downtown core. For more information, the official website of the city of Ottawa.
The sound and light show may be cancelled in the event of poor weather conditions, check out their Facebook page before heading to parliament hill for cancellation notices.