If you are looking for a perfect family summer getaway only 2 hours away from Ottawa, Laval is the place to go! There are so many activities for children of all ages.
Located north of Montreal, Laval is a hidden gem that has tons of awesome and unique indoor and outdoor activities to make your getaway one that your kids will remember!
COSMODOME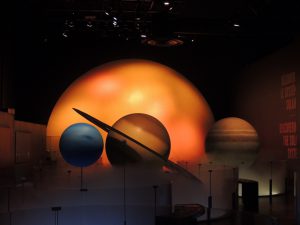 No need to go to Cape Canaveral to visit a Space Center, there is the Cosmodome in Laval! It's is a space science museum where you can learn about space through 3 different virtual and interactive missions, take a 4D experience, tour a real space shuttle, go on one of the 6 training simulators or see a real lunar rock.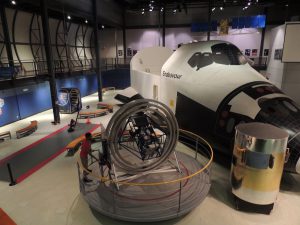 The Cosmodome also offers Space Camps for children age 9 to 15!
For more information, the Cosmodome's official website.
CLIP 'N CLIMB
Clip 'n Climb is a unique climbing experience that has 34 individually themed climbing walls with different level of difficulty and challenges. It's ideally located in Centropolis, where all the fun happens!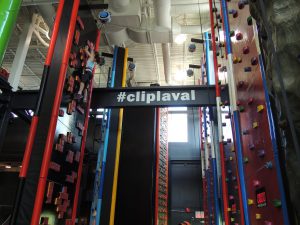 All climbing walls have automated belay devices so you are on your own and independent, however there are many staff members that will come help you, give you advice or extra challenges!
Climbing sessions last 1 hour and 15 minutes and start every hour. Before each session you will receive a safety briefing and harness equipment verification.
There is no minimum age to climb however it is not recommended for children younger than 4.
Make sure you wear comfortable clothing as well as closed-toe shoes. If you forget your shoes, they will lend you an old pair that past climbers have forgotten.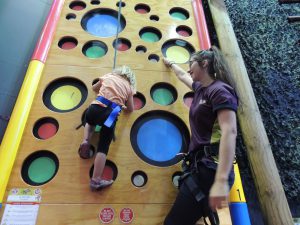 For more information or to book a climbing session, Clip'n Climb's official website.
FUNTROPOLIS
Funtropolis is a huge indoor playground! Way bigger than any indoor playground in Ottawa. Kids will be able to run around for hours playing on activities like the giant play structures, ball cannons, mini-golf, X-Rider, and the giant spider web.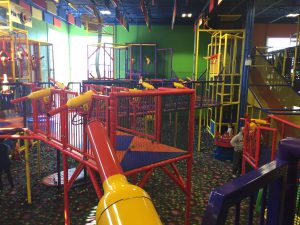 For more information, Funtropolis's official website.
SKYVENTURE 
SkyVenture is an indoor skydiving center, the first and only one of it's kind in Canada. It recreates the free fall portion of a skydive: an unforgettable experience for children 4 and up.
For more information or to book at flight, Sky Venture's official website.
CENTRE DE LA NATURE (NATURE CENTRE)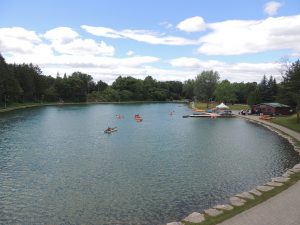 During your visit to Laval, a stop at the Nature Centre is a must! It's is a huge 50 hectare park located in the middle of the city. It has a lake, ponds, a farm with a petting zoo, a greenhouse, a huge playground, a splash pad and a pool. You can also take a mini train ride through the park , rock climb, ride a pony, rent a kayak, pedal boat or canoe (extra $). You can also simply walk around and enjoy the many city gardens around the park.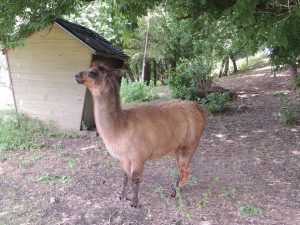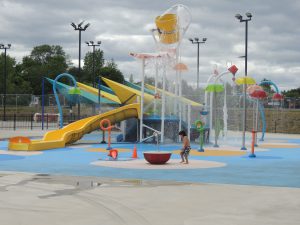 There are also tons of cultural events like musical performances, outdoor movies, theater, dance shows and much more! For more information and the schedule of cultural events, Le Centre de la Nature's official website.
Entrance to the park is free, some activities are extra. There is a parking onsite (7$) or you can choose to park on nearby streets.
THE RIVIERE-DES-MILLE-ILES' PARK
Another must see with children during the summer is The Rivière-des-Milles-Iles Park which is the most important preserved wildlife sanctuary in the region. The park has 155 km of trails that will take you through the forest and marshes.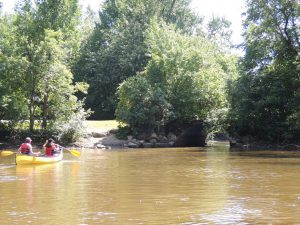 In the summer you can rent a row boat, canoe, or rabaska and go fishing on 42 km of water or observe animals in their natural habitat. Kids will love discovering small islands on the river, on some islands you can even get out of your boat, explore and why not have a picnic!
For more information, rental cost or to make a reservation, The Rivière-des-Milles-Iles Park's official website.
CENTROPOLIS
If you're looking for restaurants, activities, daytime or evening entertainment, Centropolis is the place to go! It's has tons of restaurants, boutiques, and free events & activities taking place throughout the summer! For the calendar of events, Centropolis official website.
If you have time and energy left, you can also visit the Carrefour Laval which is the dream shopping centre that has all the stores you could possibly ask for!
Great way to combine a getaway with back to school shopping!
Good to know, the STL (Laval bus) offers free shuttles around the downtown core.
WHERE TO STAY
Holiday Inn Laval is ideally located across the street from Carrefour Laval and a 2 minutes drive from Centropolis and the Cosmodome. It has 176 newly renovated guestrooms with several communicating which are perfect for families! Kids will love the indoor pool and teenagers the free WIFI!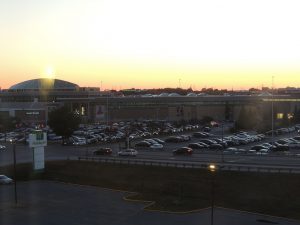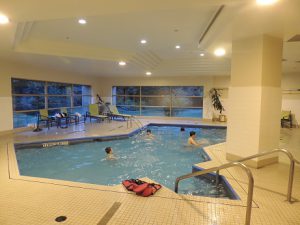 Disclosure: The writer was hosted by Tourism Laval and the Holiday Inn Laval. As always, her opinions are honest and her own.