Each winter the Rideau Canal becomes the world's largest skating rink. A unforgettable activity for families in Ottawa!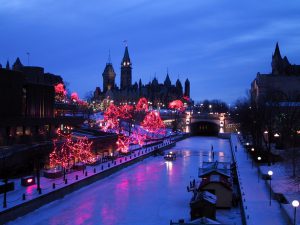 The Rideau Canal is a 7.8km skateway stretching from downtown to Dows Lake.
5 rest areas are available on the canal, they include:
washrooms
heated change rooms open from 8am to 10pm Sunday to Thursday and from 8am to 11pm Fridays and Saturdays
fire pits to warm up
food and beverage vendors
picnic areas
It's also possible to rent skates and sleighs at Dows Lake and the CIBC Fifth Rest Area.
For more information and for daily ice conditions: http://rcs.ncc-ccn.ca/