Have you ever dreamed of becoming a mermaid? AquaMermaid makes mermaid dreams come true!
Now offered in Ottawa, AquaMermaid is a fun way to keep fit! It is a new discipline where you learn how to swim like a fish using both legs as a fish tail and using your core muscles to propel forward. With multiple arm placement variations you can perform a variety of unique swimming movements.
Mermaid class encourages children to swim and get exercise while they are playing. It teaches children to use their legs for a strong kicking motion to better support a stronger swim style. While it encourages swimming, children have so much fun pretending to be mermaids that they are completely unaware of the health benefits they are reaping. Classes starts at 7 years old.
Here's what you can expect during an AquaMermaid class:
5   min – Introduction to mermaid swimming and stretching (How to wear and care for the mermaid tail)

10 min – Swimming test and introduction to the dolphin kick and mermaid basic movements
10 min – Swimming with the mermaid tail with floaters
10 min – Swimming techniques, drills and practice
15 min – Swimming games and challenges
10 min – Conclusion (individual assessment and free time for pictures to share with you friends)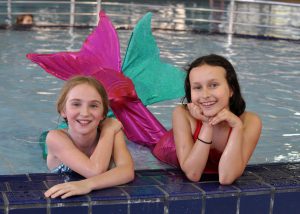 Here's what you can expect during a Kids Mermaid Birthday Party:
1 Hour private mermaid­ swimming course in the pool
Mermaid tail rental for the guests
Show the Little Mermaids and Mermen how to Swim With a Fin!
Dress the Little Guests in their Mermaid and Merman Tails
Play Games and Teach the Little Guests how to Swim Like Real Mer-People!
Pose the Little Guests in Perfect Mer-Style for a Magical Photo Opportunity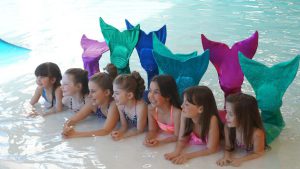 Services & Prices
Monthly membership

Price: $

75/month

Includes 1 hour of class and 1 hour of free swim per week. Members have access to all classes in all the cities where Aquamermaid has a school. The membership classes teach more advanced movements and focus on fitness.

Trial classes

(kid & adult) – Price: $60

Mermaid parties

– birthday, bachelorette, team building – Price: $300 (include 7 participants)

Mermaid tails

–

Price: $140 https://aquamermaid.com/products/mermaid-tail
Events

– Mermaid model and entertainment, pool opening, festival, commercial, pool party

License Program – $4,200 https://aquamermaid.com/products/license-training-1
For more information:
Ottawa Location: YMCA, 180 Argyle Avenue in Ottawa