The Canada Goose Arctic Gallery at the Canadian Museum of Nature is an awesome new permanent gallery that will allow visitors to learn about the Arctic geography, ecosystems and sustainability, as well as the impacts of climate change.
Discover real ice in this multimedia installation that uses video, sound and touch to introduce visitors to the Arctic.
A beluga, narwhal, caribou, musk ox and polar bear are just some of the animals that you will be able to learn about in the new Canada Goose Arctic Gallery.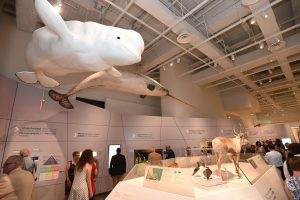 View a large deconstructed mural in the Gallery.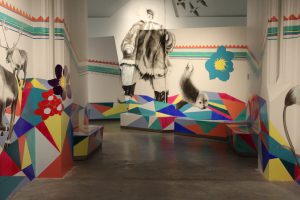 The climate section features a polar bear, as well as a camel, symbolizing the new discovery that camels lived in the High Arctic about 3 million years ago when the Arctic was warmer than today.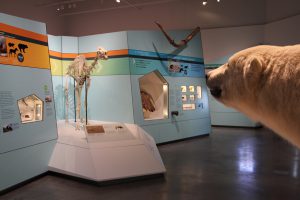 There are also a special arctic-themed activities for kids in the Activity Zone!
Walk through our ceiling-high, inflated polar bear and discover the importance of nanuq
in the Arctic ecosystem.
Step into an Arctic explorer's tent and experience how researchers live and work in the
field.
Build an Inuksuk out of blocks and discover their meanings with a guide.
Channel your inner walrus in our basking corner, where you can read books for all ages
about life in the Arctic!
Learn about Arctic marine mammals and make a craft by sculpting your own seal,
walrus, whale or polar bear to take home!
For more information on the Canada Goose Arctic Gallery , the Canadian Museum of Nature's official website