Come enjoy a new wild experience at N.U.T.S! The interactive obstacle race now GLOWS IN THE DARK every Friday & Saturday evenings from 5pm to 9pm!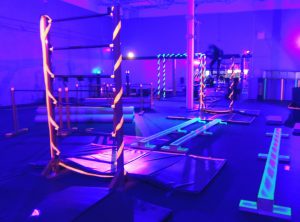 N.U.T.S has partnered with GlowSPort Ottawa to bring you Ottawa's first Glow in the dark obstacle course! A challenge for the body, the mind AND your senses! The kids love it and it's absolute fun for the whole family!
You can either drop in anytime between 5 and 9pm on Fridays and Saturdays or book ahead of time! You can even throw a GLOW IN THE DARK birthday party!!
The cost is $22.75/person for 60 minutes of glow in the dark obstacle racing. It includes a glow in the dark shirt for the time of the obstacle course as well as glow in the dark face painting.
For more information or to book your GLOW IN THE DARK obstacle course experience, N.U.T.S official website or by phone at 613-248-0123.
N.U.T.S is a unique facility in Ottawa where you and your family get to run an obstacle course that includes physical & knowledge obstacles. The physical obstacles include monkey bars, hurdles, tent crawl, horizontal wall climb, tire jumps, toe touches, bag lifting and many more! The knowledge obstacles are touch screen consoles that have age-specific questions taken directly from the Ontario School Curriculum. For adults, questions can be chosen from different packages such as Canada 150 trivia, Senators trivia, rock band trivia.