The Miracle Marnie Foundation presents The Mom & Son Carnival which will be held on June 2nd 2018 from 10am to 2pm at Orchard View Wedding & Event Centre in Greely.  100% of proceeds from this event will go directly to the Miracle Marnie Foundation.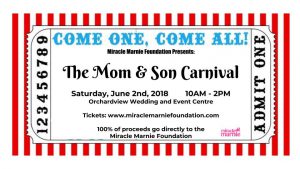 Activities will include:
Special Guest Appearances by the 501st Legion, League of Superheroes and the KidMascots Characters.
Performers:
Monkey Rock Music
Magic by John Pert
Carnival Activities:
Touch-A-Truck:
Ottawa Police Cruiser
Bytown Fire Brigade
Military vehicle
Tractor Trailer
Mack Truck
Dumptruck, trailer and construction equipment
Tickets are 30.60$ for moms and 20.40$ for the child. They include a BBQ buffet lunch, entertainment and activities.
For more information and to purchase tickets https://guestlist.co/events/502698?utm=5bphlalli29hwcup