We've all built with them and stepped on them. But who among us would imagine that an exhibition made entirely of LEGO® bricks would be named by CNN as one of the Top Ten "Global Must-See Exhibitions"?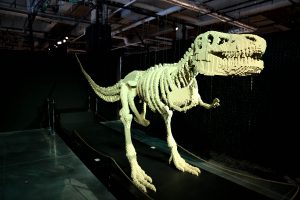 Happening now at the Canada Science and Technology Museum, THE ART OF THE BRICK features critically acclaimed artist Nathan Sawaya's amazing collection of inspiring artworks made exclusively from one of the most recognizable toys in the world: the LEGO® brick. 
This is literally the world's largest display of LEGO® art, with original pieces including an immense Tyrannosaurus Rex and re-imagined versions of the world's most famous art masterpieces, including Van Gogh's Starry Night and Da Vinci's Mona Lisa.
 From child's toy to sophisticated art form and beyond! ART OF THE BRICK is on now until September 3rd at the Canada Science and Technology Museum.
For more information visit https://ingeniumcanada.org/exhibitions/the-art-of-the-brick