With the cold weather starting, it's time to get into the Christmas spirit by seeing Christmas lights and taking part in tree lighting ceremonies!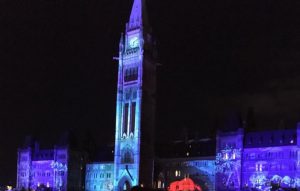 Magic of Lights is back for another year! This year this family friendly display will feature nearly one million twinkling lights spread over a path through Wesley Clover Parks Campground that now totals more than 2 kilometers in length and features an expanded, 200-foot light tunnel as the finale. On from November 16th 2108 to January 5th 2019. Cost is 20$ per car. Click here to purchase tickets online.
The 34th edition of Christmas Lights Across Canada will be held from December 6th 2018 to January 7th 2019 and will kick off with the illumination ceremony on December 5th 2018 at 7pm.
The Christmas Tree Lighting Ceremony at the Canadian Museum of History will be held on November 30th 2107 at 6pm. Enjoy the lighting of the giant outdoor Christmas tree as well as Christmas carols and Beaver Bites and hot chocolate.
The Vintage Village of Lights at the Cumberland Heritage Village Museum will open on Friday November 30th and run Friday, Saturday and Sunday evenings until December 23rd. Come see the village illuminated by more than 30,000 lights, take a tour of the village in a horse-drawn wagon, decorate gingerbread cookies and enjoy activities like street hockey and sledding.
Alight at Night is Eastern Ontario's biggest outdoor light festival with close to a million lights adorning the heritage building, trees and fences…a true winter wonderland for the whole family! This year, it will be open from November 30th to January 5th 2019 from 5-9 pm (closed Mondays, Tuesdays and Wednesdays).
Taffy Lane Every December, the residents of Taffy Lane in Orleans decorate their houses in the spirit of Christmas from December 1st to January 1st.
Little Italy is creating a bright spot during the dark November evenings on November 17th & 18th 2018 from 7pm to 11pm. Night Lights is a creative Art and Light Festival. The first of its kind in the city, this FREE outdoor nighttime event will offer guests the chance to interact with multiple uniquely lit art installations. Virtual Reality Experience, Dems and Doll Photobooths/Selfie Spots, Dems and Doll Projections & Sounds, Display Projections, Glow Hoola, UV facepaint, Live music. Free admission – All ages.