Calling all mermaids! Ariel, the Little Mermaid, is making a trip to Hippo in the Bathtub's Trainyards Indoor pool facility to show you how to act, speak, and swim like a mermaid. With snacks, Ariel and pool time this adventure is like no other and the limited spots will fill up fast.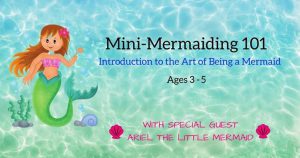 The event will take place on January 5th from 3pm to 4:30pm at Hippo in the Bathtub's new Trainyards Indoor pool facility and is geared towards children ages 3 – 5. No previous swim experience is necessary to participate.
The session will include forty minutes of mermaid training followed by crafts and snacks! Ariel, the Little Mermaid herself will be present for the entire training session. She will help the little mermaids in training with some activities, games, and crafts!
Event Timeline:
2:45 – 3:00 pm: arrival & getting changed into swim suits
3:00 – 3:05 pm: greeting by Princess Ariel & pool rules
3:05 – 3:45 pm: pool swim time
3:45 – 4:30 pm: getting changed, mermaid craft table, and mermaid snacks
During the instructor led pool time, for safety reasons all participants shall be wearing life jackets or puddle jumpers. Due to space limitations mermaids must be comfortable entering the water without their caregiver. All the mermaid tails and accessories will be provided.
For more information on the event or to purchase tickets, Hippo in the Bathtub's official website.