WE'RE OFF TO SEE THE WIZARD at the National Arts Centre from March 28th to 30th!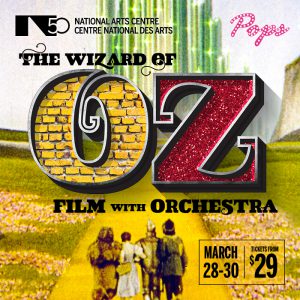 Celebrate the 80th anniversary of the Academy Award-winning classic by setting out on an adventure with Dorothy, the Scarecrow, Lion and Tin Man as they dance down the Yellow Brick Road to the magical land of Oz. This NAC Orchestra Pops presentation lets you experience this brilliant techicolour movie classic on the big screen live with the NAC Orchestra, conducted by Jack Everly.
The brilliant music of Harold Arlen and E.Y. Harburg combined with Judy Garland's iconic Dorothy will have you singing along to favourites like We're off to see the Wizard and Over the Rainbow. Marvel at the whimsically colourful world: from the ghoulishly green Wicked Witch of the West to the glittering Glinda the Good Witch and resplendent ruby red slippers.
Starring Judy Garland, the 1939 MGM film earned multiple Oscars including Best Music, Original Score; Best Music, Original Song for Over the Rainbow, and the Academy Juvenile Award for the famed Judy Garland's legendary performance in the role of the darling heroine.
The Wizard of Oz will be playing on March 28th, 29th and 30th at 7pm.
For more information or to purchase tickets visit the NAC official website