KIDSFEST is Ottawa's BIGGEST and BEST children's show that will be held March 2nd & 3rd 2019 at the EY Centre. Throughout these 2 days, you will find award winning performers, interactive demonstrations, informative exhibits, and your favourite superheros and princesses.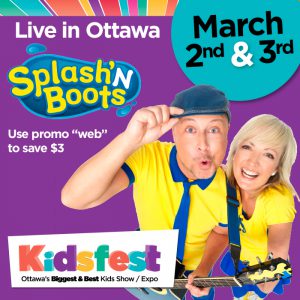 KidsFest is over 50,000 square feet of entertainment for parents and children alike! Families will amazed by award winning performers on the main stage, participate a variety of family-friendly activities, and discover unique items to purchase.
Many KIDSFEST Ottawa exhibitors encourage children to be interactive and tryout their services, with instructors and coaches ready to lend a helping hand.  Throughout the day, children may play a mini game of soccer, use robotics to build objects, play an instrument, climb on a playground, perform martial arts moves, drink tea with a princess, pet an animal, ride a bicycle, paint a picture, jump on a bouncy castle, and much more! All that while parents interact with local businesses, uncovering the best options for their children in many programs, including education, finance, child care, health & safety, sports & fitness, and arts & music.
There are so many great reasons for families to attend:
Enjoy watching performances that will captivate your children's imagination and creativity, including award winning Canadian performers Splash'N Boots who perform each day at 12 noon

Discover the universe of Minivers, a place where fun meets learning through song and dance, with four entertaining live shows over the weekend, at 11 am and 2 pm

Aerial Antics will spark your child's interest in the circus arts with interactive demonstrations on the KIDSFEST Inspiration Stage

NEW – Glebe Collegiate Institute's Offbeat Percussion Band will showcase local talent

Participate in a cooking demonstration with Kathy Smart, Canada's Nutrition Expert

Bounce and play along with Tiny Hoppers in a safe, fun, and unique play environment

Create a work of art with The National Gallery of Canada

Discover, explore and embrace the sport of gymnastics with Tumblers Gymnastics' balance beams and tumbling floor

Buy unique KIDSFEST offers from local companies such as Calypso, Games to Go, and Wilderness Tours, among many others

Connect with exhibitors in the areas of education, health & wellness, family adventure, and retailing to assist you and your family in making the best choices for products and services, including March Break and Summer camps

Interactive exhibits encourage children to tryout services, with instructors and coaches ready to lend a helping hand

Children and adults alike can interact with their favourite princesses and Star Wars characters

Plus, KIDSFEST Ottawa offers complimentary coat racks, stroller parking, and a nursing station to make your day easier and convenient

And so much more …
For more information or to purchase tickets, Kidsfest official website