In the heart of the beautiful Outaouais region, this unique animal park will delight the whole family!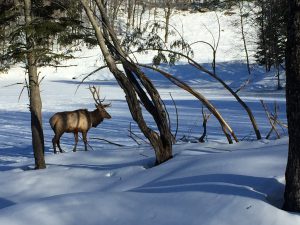 Omega Park is located in Montebello Quebec, a 45 minute drive from Ottawa. This 800 hectare park has over 400 animals living in nature in the most authentic way possible. It can be discovered both by car and on foot and has many wonders to be discovered: the first nations trail, the colonization trail, the sugar shack, and the farm of yesteryear. A day at the park will delight the whole family and can even be extended by staying overnight in one of the rustic accommodations that the park offers.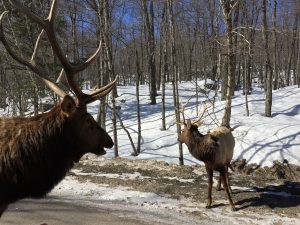 The car journey is 15 kilometers long and allows for 1 hour and 30 minutes of privileged contact with more than 400 wild animals from the northern hemisphere . Have your carrots ready and windows down because several varieties of deers will greet you at your window! You will also be able to see bears, wolves, coyotes and bisons.
In addition to the car route, several pedestrian trails make it possible to enjoy nature all while learning a bit of history.
The Area of ​​Colonization brings us back to the time of New France with a reconstructed trading post and Indian tipis. During the spring months, you will also find an old sugar shack where maple products are offered. The lumber camp will also allow you to rent snowshoes in the winter and perhaps even enjoy some live music!
Come take a stroll on the First Nations trail either in summer or winter which pays tribute to the eleven First Nations of Quebec!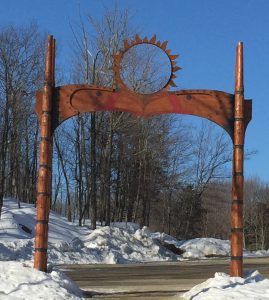 Take a walk through the Enchanting Cabin which was made by chainsaw by Michel Therrien where the kids can also play on different play structures.
The Park House is a great place to stop and buy souvenirs before heading home. You will also find a restaurant and ice cream parlor in the summer and an exhibition hall in the basement with animal pictures taken throughout the park.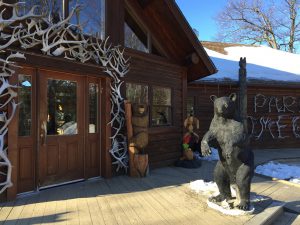 For more information on Omega Park, opening hours and rates, Omega Park's official website.