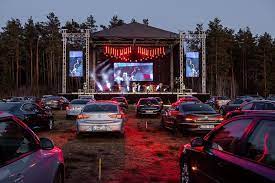 The DRIVE-IN EXPERIENCE OTTAWA is back this summer with 2 locations! Enjoy a movie night and other events this summer from the comfort and safety of your vehicle!
East End location is at RCGT Park parking lot located at 300 Coventry Court.
West End location is at Wesley Clover Parks located at 401 Corkstown Road in Nepean.
Movies are starting this weekend!
EAST LOCATION
Friday June 18th : GHOSTBUSTERS (Doors 7:30; Movie 8:30)
Saturday June 19th: INCEPTION (Doors 7:30; Movie 8:30)
Sunday June 20th: JAWS (SUNDAY SCARIES) (Doors 8:00; Movie 9:00)
WEST LOCATION
Friday June 18th : GHOSTBUSTERS (Doors 7:30; Movie 8:30)
Saturday June 19th: BLACK PANTHER (Doors 7:30; Movie 8:30)
Sunday June 20th: RAYA & THE LAST DRAGON (Doors 4:00pm; Movie 5:00pm)
Sunday June 20th: IT CHAPTER 2 (Doors 7:30; Movie 8:30)