The Mini Pop Kids are back in theatres and relighting the stage with their brand-new "Bright Lights RELIT" 2022 Concert Tour featuring the year's biggest hits!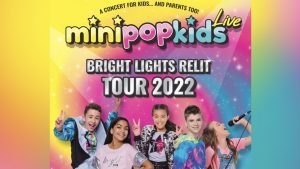 This jam-packed concert features songs by Justin Bieber, Dua Lipa, BTS, Harry Styles, and Olivia Rodrigo alongside throwback favorites that EVERYONE will love. This isn't just a show, it's an experience for the whole family! Don't miss your chance to sing, dance, and POP with Canada's best-selling kids music group, The Mini Pop Kids!
Ticket Prices:
$27.50 – $42.50 (Plus Applicable Service Charges)

VIP – $77.50 (Plus Applicable Service Charge). Attend a Mini Pop Kids concert and shine bright up front with your VIP Spotlight pass! Each VIP package includes: One (1) premium ticket in the first few rows of the theatre.