For Autism Awareness Month, the Bank of Canada Museum will provide a sensory-friendly experience every Sunday mornings on April 2, 9, 16 and 23.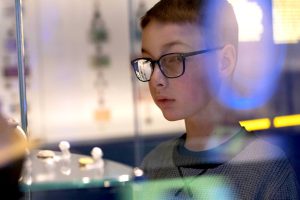 The Museum will open at 9:00 for visitors looking to avoid crowds and hands-on sensory-friendly activities will be offered throughout the Museum until noon. Touch and explore some fascinating artifacts with the help of a guide and create a 3D foam sculpture of images from Canadian bank notes.
What can you expect?
Reduced ambient sounds
Noise-cancelling headphones available to borrow at the front desk
A designated quiet area
Hands-on sensory activities
9:00–10:00: Early Sunday opening for those looking to avoid crowds for our sensory-friendly activities.
10:00–12:00: Sensory activities continue during regular Museum hours.
Admission to the Museum is always free. Visit their event web page to download our social story and for more information on how to prepare for your visit.