As of July 1st, kids aged 12 and under can now ride for FREE on OC transpo buses and trains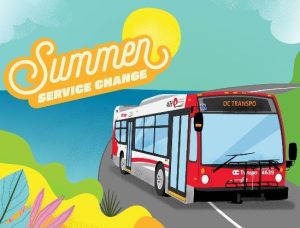 July 2nd marks the change to summer service on OC Transpo. As of July 1st, kids 12 & under will also be also to ride for FREE on OC Transpo buses, trains and on Para Transpo. 
Weekend and holiday service to summer destinations will return. These include: Canada Aviation and Space Museum, Petrie Island, and the Canada Agriculture Museum.
NCC Weekend Bikedays continues on weekends and holiday Mondays. 
You can use the Trip Planner to plan a family trip to downtown Ottawa and become a tourist in your own city!!