Enjoy the last weekend of Winterlude at Snowflake Kingdom or at Marion Dewar Plaza or the Rideau Canal Skateway
Mayor Jim Watson will be once again hosting the Family Day Skating Party at the Sens Rink of Dreams on Monday February 20th from 11am to 2pm. There will be free hot chocolate and special guests in attendance!
Come out to Carlingwood Shopping Centre on Saturday February 18th from 10am to 2pm for their Indoor Winter Carnival. There will be a FREE magic show from 12 to 12:30 and other carnival games for kids to enjoy!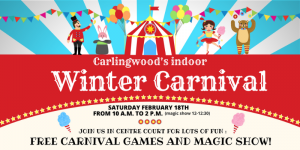 The Canadian Children's Museum will have a Flag Day on Family Day. Kids will be able to go on a flag scavenger hunt, master some Canadian flag crafts as hear stories about Canada's Maple Leaf flag. Monday February 20th from 9:30am to 5pm.
Come have fun with the kids in an arena full of Bouncy Castles at the Festival des Jeux Gonflables on Sunday February 19th from 10am to 5pm and Monday February 20th from 10am to 4pm. There will be 16 different inflatable games and bouncy castles at Jean-Marc Lalonde Arena in Rockland.
Blackburn Hamlet Arena will have a Family Day Free Skate on Monday February 20th from 1pm to 3pm with free treats and swag.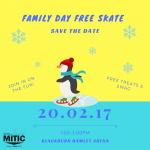 The Nepean Sailing Club is hosting the Harbour Harvest – Ice Fishing Derby on Sunday February 19th from 8am to 3pm.
Come out to celebrate Monkey Around's 5th birthday on Sunday February 19th from 11m to 4pm. There will be special guests, prizes, face painting, a photo booth and more!
What better way to enjoy Family Day, than at Family Fun Day?! Come out and enjoy a gymnasium full of giant inflatables, Vanderlaand the Barnyard Zoo petting zoo, crafts, face painting, games and MORE! This year, there will also be a special GLOW zone (so wear white or neon if you want to glow!). Monday February 20th from 11am to 3pm. Cost is $10/child; $5/adult or a family pass of 4 (2 adults/2 kids) for $25. Concessions available for purchase on site.