With Easter just a week away, here are some awesome kid friendly Easter activities happening in the Ottawa area!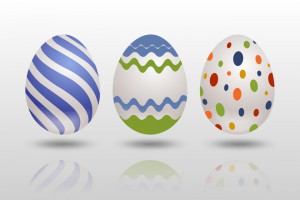 EASTER AT THE MUSEUM
Come celebrate Easter at the Farm from April 19th to 22nd 2019 were the barns have come alive with the arrival of newborn animals such as lambs, rabbits, chicks and ducklings. Kids can also hop on a tractor ride and participate in an egg roll race in the meadow. 38$ for a family of 4, 14$ for adults and 12$ for children 3 to 17.
Celebrate the arrival of Spring at Hop into Spring Saturday, April 20th from 10 am to 4 pm at the Cumberland Heritage Village Museum. Come enjoy family-friendly fun with the Easter Bunny Challenge, add a colourful touch to the day with traditional egg dyeing, put your green thumb to the test planting carrot seeds, and more. The Heritage Livestock Club of Eastern Ontario will be bringing some furry, and feathery, visitors along to Hop into Spring. And, you might even catch a glimpse of the Easter Bunny himself! Cost is 19.75$ for a family of 4, 7.75$ for adults and 5.50$ for children.
Come celebrate Easter at the Estate at the Billings Estate National Historic Site on Saturday, April 20th from 10 am to 4 pm. Enjoy family-friendly fun inspired by the spring season on the Billings farm. Explore Easter traditions as well as life on the farm as you complete activities and collect tokens to redeem for a delicious treat. Visit the Big Sky Ranch petting zoo and say hello to their special animal guests. Cost is 17.5$ for a family of 4 or 6.75$ per person.
The Canadian Children's Museum will be having a Sparkling Egg Hunt from April 8th to 22nd. The Easter Bunny has hidden 10 sparkling eggs throughout the Children's Museum. Find them all to collect a sweet treat!
Come out to the Diefenbunker on April 20th for a unique twist on your typical Easter Egg Hunt. Tickets must be purchased in advance! Cost is 12$ per person.
The Bytown Museum will be having an Easter Eggstravaganza Sunday April 21st from 11 am to 4 pm.
EASTER AT THE SUGAR BUSH AND THE FARM
Proulx Sugarbush & Berry Farm will be having special Easter activities April 19th to 22nd from 11am to 2pm with an Egg hunt, face painting and a clue hunt.
Stanley's Old Maple Lane Farm will also be having an egg hunt with the Easter Bunny on March 17th 2018 from 10 to 11am. Reservations are necessary and space is limited.
Easter at the Log Farm will be on from April 19th to April 22nd. Easter activities will take place around the farm. The Easter egg hunt and tractor drawn wagon ride are included with your $6 admission.
Valleyview Little Animal Farm will be having there annual egg hunt daily throughout the Easter weekend.
Kids can also see the animals, take a train ride or play in the playground. Fun times for kids of all ages!
OTHER EASTER ACTIVITIES
The Carp Farmers' Market's will be hosting their Annual Easter Market on Saturday April 20th from 8am to 2pm.
Carlingwood Easter Egg Hunt will be happening at Woodroffe Park on Saturday April 20th from 10am to 11am.
Visit Carlingwood Shopping Centre for the Egg-cellent Easter Scavenger Hunt April 20th from 10am to 2pm. Grab a map and follow the Easter Bunny's trail around the mall to find 20 hidden Easter egg posters. Once you've succesfully located all the eggs on your map, you can bring your map back to Centre Court where you will receive a $5 Carlingwood Gift Card and a Purdy's Chocolate Treat!
The Ottawa Humane Society is having their Hoppy Easter Family Event on Saturday April 20th from 11am to 1:30 pm. Visitors can look forward to a variety of Easter-themed crafts and activities including, egg races, photos with the Easter bunny, scavenger hunts, face painting and cookie decorating.
Kanata Central Bunny Hop! Saturday 31st March from 12pm – 4pm – FREE scavenger Easter egg hunt with lots of treats, activities and prizes for the whole family! In support of Children's Wish Foundation, National Capital Chapter. Starts at the Holiday Inn and Suites 101 Kanata Ave. Over 80 stores in the Kanata Central area will be participating in the event and scavenger hunt contest with a $250 grand-prize draw including: a gift certificate for La Mode Fine Jewelry, chocolates and wine! PET THE LIVE EASTER BUNNY and his friends the dwarf goat and guinea pigs!
-Loot bags made from over 50,000 pieces of candy
-Scavenger hunt,
-Face painting
-Meet the Easter Bunny
-Pin the tail on the bunny
-Sack race
-Story time at Chapters
and more!!
Boston Pizza Barrhaven will be having an Easter Egg Scavenger Hunt on Saturday April 20th from 11am to 1pm where kids 10 and under can participate in a fun search and find event followed by lunch and Easter-themed craft and colouring. Each child will receive an Easter prize bag filled with goodies after completion of the hunt.
Perth Tourism presents the 7th annual Easter Egg Hunt! Saturday April 20, 2019, at 11:00 a.m. SHARP! Rain or shine. Located in Stewart Park. Children's Music, Balloon Artist Clowns, Perth Fire Truck And more!
For children 8 years old and under.
Meet the Easter Bunny at Hazeldean Mall on April 6, 7, 13, 14 & 20 from 10am to 2pm.
Come and meet the Easter Bunny at Billings Bridge shopping centre from April 4th to 20th.
Do you know of any other Easter activities going on in the Ottawa area? Join the conversation in our comments section below.