Here is a list of great activities happening in and around Ottawa on Canada Day 2019!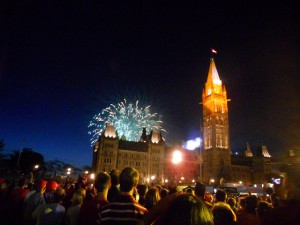 There will be something for everyone to enjoy on Parliament Hill for Canada Day! The celebrations start at 8am with a Peace and Friendship Circle, then at 10:00 am a Carillons Concert featuring the 53 bells of the Peace Tower.  The afternoon is also filled with many activities and performances for the whole family. The evening show starts at 6:45 pm with an amazing lineup featuring The Strumbellas, Marie Mai, Coeur de Pirate, K'naan and many others. Finally to end the evening, the musical fireworks launched behind Parliament Hill will start at 10 pm.
On Major's Hill Park the festivities will feature a variety of up-and-coming musical and cultural talents, the Tim Hortons Village, an African-Canadian Headwrap Challenge, a photo booth, face painting and much more.
O Canada Orleans at Petrie Island in Orleans.
Canada Day in Kanata will be held at Walter Baker Park on July 1st starting at 8am. Activities will include live bands, family fun zones and of course, a beautiful display of fireworks!
Mattamy Homes Canada Day in Barrhaven at Clarke Fields from 8 am to 10:45 pm with a Kids Zone with activities & games, stage shows, midway rides, free birthday cake, a parade of flags, live music and fireworks at 10 pm.
Canada Day in Carleton Place at Riverside Park starting at noon with tons of activities and entertainment for children of all ages. The day will end with fireworks at 9:45 pm over the Mississippi River.
Canada Day in Rockland at Du Moulin Parc from 9 am to 10:30 pm with a pancake breakfast, live music, inflatable games, face painting, free swim at the Rockland YMCA & fireworks.
Canada Day Celebrations in Russell from 8:30 am to dusk with Kids Games and Activities, The Keepers Animal Show, Russell Fire Department Giant Water Sprinkler and fireworks in the evening.
Canada Day in Stittsville at Sacred Heart High School from 1 pm to 10:00 pm with live music, games and entertainment for children of all ages & fireworks at 9:45 pm. Also horse drawn wagon rides, face painting, meet a princess, a petting zoo, free birthday cake and glow sticks.
Canada Day celebrations at the museum of space and aviation  from 9 am to 5 pm with tons of entertainment and activities for the whole family including a Rocket launch by the Ottawa Rocketry Group, Parachute demonstration by Parachute GO Skydive, an ejection seat demonstration and inflatable structures. The admission fee to the museum is FREE all day on July 1st (donations welcome), however, there will be still a fee for parking (5$ for the day).
Canada Day at the Agriculture and Food Museum from 9:30 am to 4:30 pm with games, demonstrations and activities all day long for the whole family including Ice Cream Making, and free tasting of their Nanaimo bars. The admission fee to the museum is FREE all day on July 1st.
Canada Day at the NAC:  The National Arts Centre (NAC) opens its doors from 10 a.m. to 5 p.m. offering FREE** activities for this annual celebration. Events will include music and dance performances, as well as crafts for the kids!
Canada Day at the Diefenbunker Museum will have family-friendly activities from 10am to 4:30pm. Includes family-friendly activities, a Canada themed scavenger hunt through the entire 4 story underground Bunker, an obstacle course, and more! Entry times must be booked ahead of time. Entry cannot be guaranteed without a pre-booked ticket.
Canada Day at Pinhey's Point Historic Site from 10am to 4pm. Spend a relaxing Canada Day near the water as your enjoy a sampling of leisure time pursuits that will transport you back to the era of the March Township Gentry. Enjoy heritage games on the lawn or a classic board game inside the house. Speak with a costumed interpreter or take a guided tour to learn more about the unique history of the site. Pack a picnic and make the most of the beautiful views and time well spent with family and friends.
RSCA Canada Day Celebrations at Claudette Cain Park. Come out to Claudette Cain Park (beside Bridge) from 10am-2pm for inflatables, BBQ, petting zoo, pony rides, face painting, cotton candy, and so much more!
Children age 2-12 require a fun pass to access the rides. Pre-purchase for $12 each or $15 at the event. Fun pass gives you access to all activities except pony rides (BBQ and ice cream is extra)
Canada Day Celebrations in Almonte from 3pm to 10pm in Mississippi Mills. Friends, Family, Food, and Fun in the park!