Mark your calendars! The 4th edition of the Fuse Street Festival will be held Saturday August 17th from 10am to 11pm and Sunday August 18th from 11am to 10pm.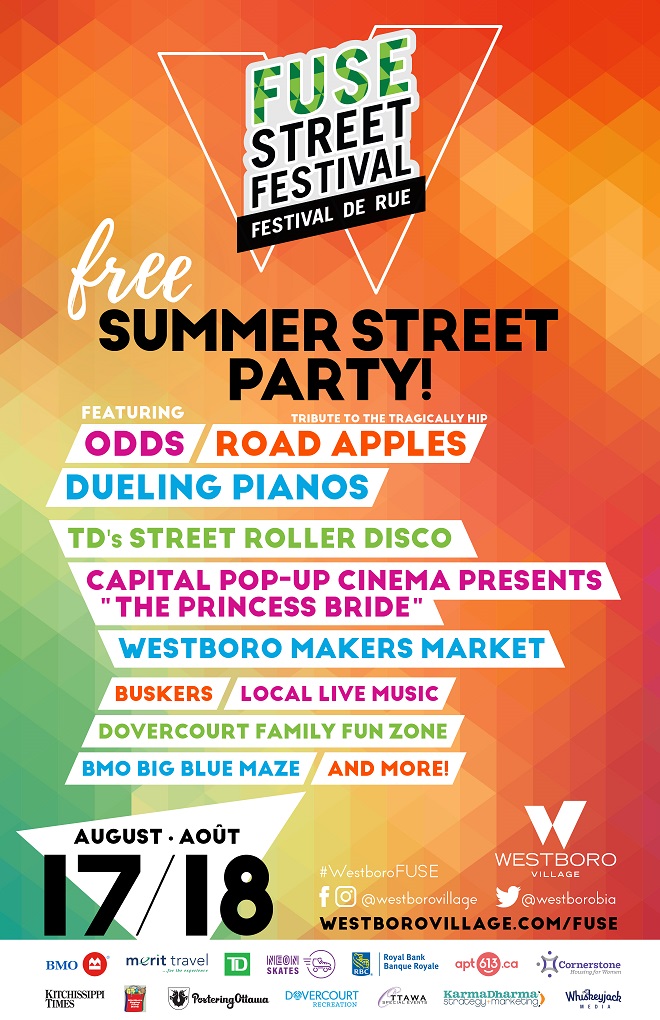 FUSE Street Festival is a free, family-friendly event right on the street in Westboro Village. That's right, the street is closed for this super fun block party with entertainment and live music!
Entertainment includes buskers, the Dovercourt family fun zone, BATL axe throwing (14+), NUTS obstacle course for kids, Ottawa Senators Fan Zone + Mini Sticks Hockey Rink, Ottawa Champions Baseball, BMO Big Blue Maze, free roller skating at TD's Street Roller Disco and much more!
Also, on August 17th, Capital Pop Up Cinema will be presenting a movie under the stars: The Princess Bride.
There will also be a great lineup of live music:
SATURDAY, AUGUST 17
9:30 – 11:00PM: Odds
7:00 – 8:30PM: Dueling Pianos
4:30 – 6:00PM: Good Advice
2:30 – 3:30PM: Mikhail Laxton
12:00 – 1:15PM: Five + None
SUNDAY, AUGUST 18
8:30 – 10:00PM: Road Apples
6:00 – 7:30PM: The Rock Steadies
3:30 – 5:00PM: The MacLovins
1:00 – 2:30PM: Joshua Earth & The Rotators
11:30 – 12:15PM: Pei & The Joynt