With summer vacation now in full swing, we have compiled a list of free summer activities in the Ottawa area for the whole family to enjoy.
Come out to the Parliament Hill to see the Change of the Guard every day from June 23th to 25th and July 3rd to August 24th 2019. Every summer morning Parliament Hill is alive with music and colourful drills. The Changing of the Guard began as a morning routine on the Hill in 1959, and has turned into an annual tradition. The ceremony begins at 10:00 a.m. each morning, but arrive about 15 minutes early to grab a spot with a great view.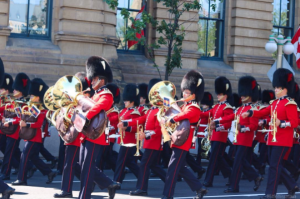 Storytime at Rideau Hall every Friday and Saturday from June 28th to August 24th from 1pm to 3pm. Frontier College staff and volunteers invite the general public, families, and groups of children to settle in under the Reading Tent to read books and to participate in fun reading, writing, and science activities. While you are at Rideau Hall, take in the sights and visit for the whole day!
---
Northern Lights is a free bilingual show presented nightly from July 9th to September 8th 2019. Show times: in July at 10:00 p.m., in August at 9:30 p.m., and in September at 9:00 p.m.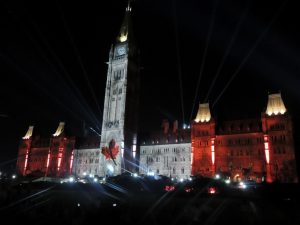 A Company of Fools presents – Torchlight Shakespeare: Romeo and Juliet. A stellar local cast of Fools both new and old play 14 different roles to retell Shakespeare's most known story in your own backyard visiting 36 parks all across eastern Ontario during the months of July and August.
---
Bring your lawn chair and some popcorn and watch a free movie in the park with the kids.
---
Spend an afternoon cooling down at one of the kid friendly beaches in the Ottawa area or at one of the city's splashpads.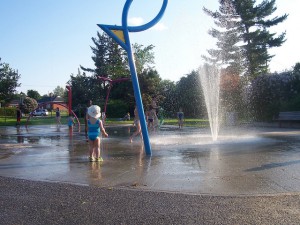 The NAC is offering FREE Summer Family Mornings Tuesdays and Saturdays from July 13th to August 31th from 10am to noon. Join them for FREE activities, games, musical guests and more, for children of all ages.
---
On either a rainy day or a really hot & humid day, why not visit a museum! You can visit some museums for free on certain days/evenings.
---
The city of Ottawa is offering many free activities throughout the summer :
Salsa Babies! every Thursday from August 8th to 29th from noon to 1pm at Jean Pigott Hall.
Salsa Tots! for children 18 months to 5 years old, every Thursday from August 8th to 29th from 10am to 11am at Jean Pigott Hall.
Masala Bangra a lifestyle program where the Dhol Drum beats meets the glamour of Bollywood. With easy to follow choreography, participants are encouraged to move, touch and inspire! July 3, 10, 17, 24, 31 from noon to 1 pm at Marion Dewar Plaza.
Chamberfest gives fun, family-friendly, and interactive performances that each young people about music-making in small ensembles. July 25th, August 1st & 3rd from 10 to 11am at Jean Pigott Hall.
---
Park-Ticipate is a free, informal drop in 1 hour program offered at various locations by the city of Ottawa. The Park-Ticipate program is geared towards children aged between 4 and 10 and offers a variety of games, crafts and sports. This year, the program will run Monday to Friday starting July 2nd until August 23rd 2019.
---
The
Ottawa Public Library
has free activities for kids all summer long including Family Storytime, Crafts and much more.
---
Apple is offering free Camp Workshops for children age 8-12 at their Bayshore or Rideau Mall Location. The 4 workshops offered this summer are:
Designing Your Dream Park
Creating Your Own Song With GarageBand
Coding Fundamentals and Programming Robots
Directing Your Own Movie Clips With iMovie
---
Fortissimo 2019
is a military and musical spectacular on the lawns of Parliament Hill featuring massed military bands, pipes and drums, guest performers and the soldiers of the Ceremonial Guard. Fortissimo will take place at 7:00 p.m. on Parliament Hill from July 18-20, 2019.