Kidsmas at the Nepean Museum Celebrate the festive season with the kids in your household at Nepean Museum! The museum has been transformed with holiday décor and they have family-friendly activities for you to enjoy. Cost is 34$ per household and registration is required ahead of time.
Vintage Village of Lights: Drive-through edition. Relax and enjoy the festive scenery from your vehicle as you pass through a 1920s and 30s village illuminated by over 30,000 lights. Colourful vignettes will highlight Christmas traditions from the interwar years while an old-fashioned radio program will bring the sounds of the season to you. You may even spot Santa hard at work preparing for the big night along the way! Cost is 25$ per vehicle.
A Country Christmas Nighttime Drive-Through Experience.
Visit our amazing Country Christmas Drive-Through experience through our beautiful 180-year-old family Farm and forest. Join Mazey, our young sapling, along the route as she explores the Farm in search of her own Christmas star. Cost is 25$ per vehicle.
A Country Christmas at Saunders Farm is a perfect way to get in the Christmas spirit! A load of fun for the whole family! Come meet Santa Claus, get lost in a maze, check out the local vendors and take a wagon ride to enjoy the holiday décor on the farm. Cost is 16.95$ per person.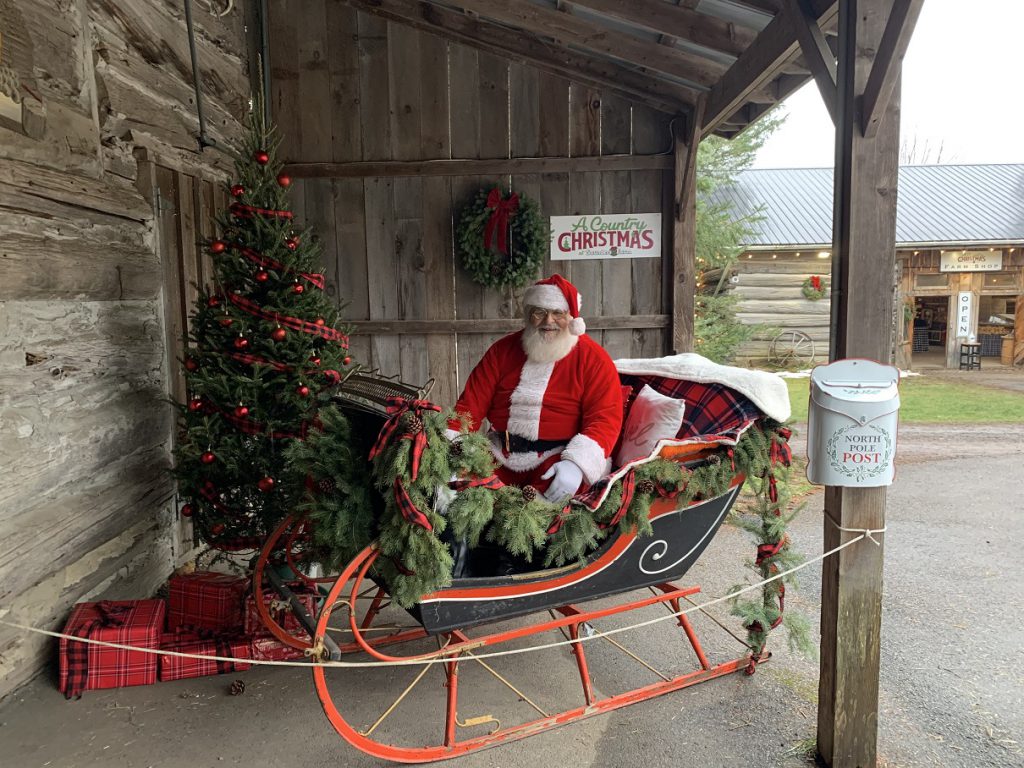 Enchanted Holiday Drive at Karter's Korner. Come out to check out this fabulous holiday drive through experience. There are 8 live scenes with live actors and Santa Claus himself. Cost is 40$ per vehicle.
Navan Fair Holiday Celebration "UPSIDE DOWN" Parade Saturday December 12th at 6pm. The Cumberland Township Agricultural Society invites you to our Country Holiday Celebration "Upside Down" parade on the Navan Fair gounds. Drive through a route on the grounds to see all the wonderful floats and displays from the comfort and warmth of your own vehicle.
11th Annual Santa Claus Parade – Drive Thru Style on Carp Fair Grounds Saturday December 12th at 7pm. .
Magic of Lights. Pile everyone in the car! Magic of Lights at Wesley Clover Parks is back for the 2020 edition, and it's the perfect activity to enjoy the beautiful lights all while maintaining social distances!
Christmas at the Log Farm. At the farm you can see all of our friendly barnyard animals and take a peek into Santa's workshop, make sure to bring your letters for Santa and drop them in our North Pole Express Mail Box, every letter with a return address will receive a personalized letter directly from the big guy. You can enjoy some hot apple cider and warm up around the fire while listening to Christmas music. It's the most magical time of year! Cost is 6.89$ per person.
Stanley's Christmas Village. Once you arrive you will be greeted by a Christmas Elf , a tractor drawn sleigh ride will then whisk you away through the forest, to the Christmas Village. Explore the village and play games, sing songs, and warm up by the bonfire. You can also meet Santa himself! Cost for family of 6 is 120$.
CP Holiday Train at Home! Saturday December 12th at 9pm
This year, due to the COVID-19 Pandemic, the CP Holiday Train Celebration is moving ONLINE via Facebook Livestream! Mark your calendars and tune in to this awesome show.
Lights at Lansdowne. Enjoy a festive atmosphere at the outdoor plaza at Lansdowne in the vibrant Glebe neighbourhood this holiday season. Pose in front of the largest Christmas tree in Ottawa, stroll under a canopy of lights in and around the Casino du Lac-Leamy Plaza, and enjoy other beautiful elements. Access is FREE.