Hot Wheels – Race to Win is a great new exhibition presented at the Children's Museum in Ottawa from September 9th 2017 to January 7th, 2018.
This awesome exhibition is geared towards children 6 to 12 years old but is also great fun for children under 6 and adults who want to learn about cars' performance, engine and technology.
Hot Wheels – Race to Win is divided into 4 zones that allows children and adults to learn about design, power, speed and safety. Each zone has artifacts, interactive activities and track tables that allow children to learn while playing.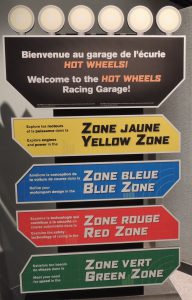 Learn a bit of physics to see how a car can move without an engine, configure your own car or learn about racing helmets and see all the gear that is required for a pilot to race.
Check what it's like to be behind the wheel of a race car or take the pit stop challenge and see if your crew can change both tires, jack up the car and fill the gas tank in less then 2 minutes.
For more information on Hot Wheels – Race to Win at the Children's Museum, the official website.
100 Laurier Street, Gatineau, Quebec
819-776-7000