5 kid friendly trails in the Gatineau park
Sugarbush trail is considered one of the best trails for toddlers. It takes about 45 minutes to complete, has no steep slopes, is stroller friendly, is located close to the visitor centre with indoor bathrooms and water fountains. It is also possible to hike on Sugarbush trail in the winter, it is regularly mechanically groomed. It also has a picnic area. Gatineau Park also offers a two hour guided tour "Sights and Sounds of Birds" along Sugarbush trail, for date and times, contact 819-827-2020 or toll free 1-800-465-1867
Des Fées Lake (1km) is open year round and takes about 30 to 40 minutes to complete. It's an easy trail for families with young children. This trail is also great for birdwatching and fishing is allowed.
Pioneer trail (1.3km) is located close to downtown Hull, it is a relatively easy trail for families with young children and is stroller friendly. It takes about 30 minutes to complete. It is also possible to hike on Pioneer trail in the winter, it is regularly mechanically groomed.
Pink Lake trail is probably one of the Gatineau Park's most popular hike and takes about one hour to complete. Although, the trail is a bit long and has many stairs (not stroller friendly!), the kids love it because it goes around a lake (Pink Lake). The trail is very peaceful and kids (and adults) will learn a lot about it's ecology while walking around the trail. To preserve Pink Lake, it is unfortunately not possible to bring a pet along on the trail.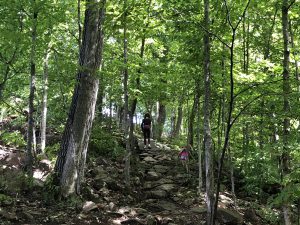 Waterfall Trail is about 2 km long and at has the Lauriault Falls at the end, who are also known as Bridal Veil Falls. There is a bench at the waterfall which is perfect snack stop. If you are with older children, you can also combine the Waterfall trail with the Lauriault trail which will take about an hour to complete. At the end of Lauriault Trail there is a lake (Mulhivill Lake) which has a picnic area and a wooden dock, a great place to enjoy a well deserved break!