The Ottawa Choral Society is Bringing Anne Frank's Diary to Musical Life in Ground-breaking Work for Soprano, Choir and Chamber Quartet.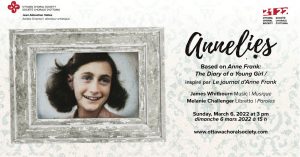 Live Performance After Recent Relaxation of COVID Health Protocols; To be Presented Sunday, March 6th, 3:00 pm, at St. Francis of Assisi Church in Ottawa, Ontario.
Seventy-nine years ago next month, on March 10, 1943, Anne Frank recorded in her diary that she'd heard guns "booming away until dawn." The guns were aimed at Allied bombers during nightly raids over Amsterdam against industrial sites and German military positions.  "My fear of planes and shooting" sent her crawling "into Father's bed …for comfort." Hiding with her family in the Annexe of a warehouse that had been part of her father's business, the brilliant but doomed 13-year-old was crafting what would become one of the most telling portraits of the Holocaust, as well as one of the definitive literary works of the 20th century.
On March 6th this year, the Ottawa Choral Society (OCS) will bring Anne's work to compelling musical life as it presents the contemporary oratorio Annelies, a work based entirely on the text of Anne Frank: Diary of a Young Girl.  By British composer James Whitbourn, with libretto by Melanie Challenger, Annelies conveys Anne's words and reflections through a gripping musical score for soprano, choir and chamber quartet.
The single performance will take place at 3 pm on March 6th, 2022, at St. Francis of Assisi Church, 20 Fairmont (corner of Wellington). Tickets at prices of $50, $40, $30 (and $10 for full-time students) can be obtained from the Ottawa Choral Society website.