The story of Babar is a bilingual in person event part of the Kinderconcert Series at the NAC that will be held on March 6th at 11am, 1:30pm and 3pm.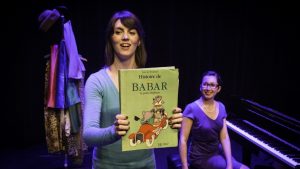 Featuring the music of Francis Poulenc, one of France's greatest composers, this show presents the remarkable story of King Babar. Majestic, entertaining, and moving, this show captures the adventures of the little elephant while presenting an evocative array of musical forms: the lullaby sung by Babar's mother, the Musette waltz of the pastries, the wedding march and polka, and the lovely finale – a nocturne bathed in moonlight.
For more information or to purchase tickets, the NAC's official website.