With spring finally here, we have compiled for you a list of family fun activities during the month of April in Ottawa.
Sugar Season at the Museoparc Vanier will be held virtually from April 1st to 9th 2022.

The Mini Pop Kids will be live at Meridian Centrepointe Theatres on April 2nd from 2pm to 4pm. Tickets are 29.95$ to 69.95$. This jam-packed concert features songs by Justin Bieber, Dua Lipa, BTS, Harry Styles, and Olivia Rodrigo alongside throwback favorites that EVERYONE will love. This isn't just a show, it's an experience for the whole family! Don't miss your chance to sing, dance, and POP with Canada's best-selling kids music group, The Mini Pop Kids!
ArtHaven is having a Kids Night out on April 1st 2022 from 6pm to 8:30pm. Drop the kids off for a fun filled evening of creativity.
La Chambre des Enfants will be playing at the NAC on April 9th and 10th. This in-person event is for children 6 to 11 years old.
The Great Rhythmobile Adventure will be playing at the NAC on April 24th 2022. This in person theatrical performance for kids 3 to 7 features percussionists creating different rhythms using all sorts of everyday objects. This makes for extraordinary choreography involving balls, rackets, garbage cans, and other unexpected items. Presentation will be in English at 11am and 1:30pm and in French at 3pm.
Ottawa Quad Rollerskating Club will be having a Family Session April 1st from 5pm to 7:30pm at Lansdowne Park
Ottawa PoutineFest will be held from April 28th at 11am to May 1st at 6pm at City Hall. The festival celebrates the best in Poutine featuring over 125 different kinds of poutine by the best Poutiners from Ontario and Quebec.
The Ottawa 67's will be hosting that April Fools' Game against the Mississauga Steelheads on April 1st at 7pm.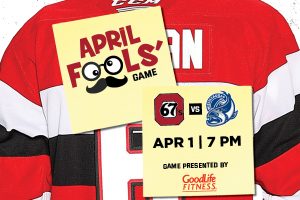 STAY TUNED FOR EASTER ACTIVITIES HAPPENING IN OTTAWA!
Do you know of any other activities going on in April in Ottawa? Join the conversation in our comments section below.
.