The Canadian Association for Girls in Science Virtual brings STEM into your home with fun, weekly, hands-on, live sessions for girls, nonbinary and gender nonconforming youth aged 7-16.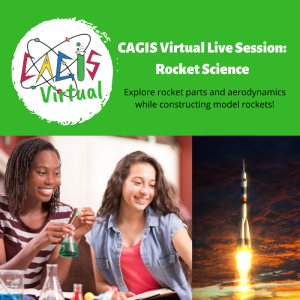 Join us on Saturday May 7 as we explore rocket parts and aerodynamics while constructing model rockets!
This session will be led by Ashwini Ramesh, an aerospace engineer and co-founder of Give Me Five, an organization that offers online STEM courses for youth.
Preparation: Pencil, paper, scissors, tape, straw, ruler, soft plastic water bottle
Ages 7-12: 11 am ET. Members (free), Non-members ($16).
Ages 11-16: 1 pm ET. Members (free), Non-members ($16).