The 2018 edition of the Ottawa Children's Festival will be held from May 11th-15th and will feature some of the best performing arts from around the world including theatre, dance, music, puppetry, acrobatics and much more.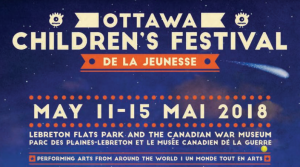 This annual festival takes place at Lebreton Flats Park with select showings at La Nouvelle Scène, the Canadian War Museum and the Canadian Museum of History. The Festival features an amazing array of interactive onsite activities for the whole family to enjoy such as rock climbing, instruments to explore hosted by Long and Mcquade, Salsa Kids, an archery booth, creating a crazy looking monster with corn, face painting, crafts, and much more! Also, don't forget to bring your own t-shirt to be able to design one with TREAD ON IT!
The 2018 programming includes a musical show by Fred Penner, several theatrical shows including The Secret Life of Suitcases, Boxy George and Jam Side Up.
Also, a selection of multi-sensory and interactive shows such as Machine du Cirque and Plastic that will make you laugh, move and dazzle you!
The onsite activity hours will be
9:30am to 2:30pm on Friday, Monday and Tuesday
10am to 4pm on Saturday and Sunday
For more information on show times, tickets and performers, the Ottawa Children's Festival official website.