Unlocked Ottawa is a Kanata-based escape room owned and operated by Kanata-natives. There is currently two rooms – Our Man on Sussex and The Krylon Crew.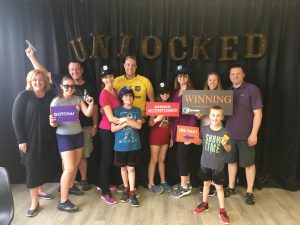 In the Room Our Man on Sussex, your team plays as secret agents. Sneak into your fellow agent's apartment to discover his secrets before he discovers yours.
The Krylon Crew is Ottawa's only competitive escape room. Your team is divided into Cops and Robbers – Either catch the robbers or escape the cops!
Additionally, there is an outdoor scavenger hunt – Strange Happenings which will be running this year for the Halloween season where your team uncovers a mystery while walking around Old Kanata. Also, for Halloween there will be a 3rd room- Fortune Found – A mystical adventure where your team has to break the curse.
Unlocked Ottawa has the ability to cater to all age groups and skill levels so it is a perfect activity for Ottawa families. All players can also request to have their experience customized into 3 different difficulties- Kids Clues, Regular or Hard mode.
Unlock the Treats
Celebrate Halloween this year at Unlock the Treats where families will work together to solve special Halloween themed puzzles, open locked boxes and fill a bucket with candy!
The following activities will be offered:
Mad Science Demonstration
Skeleton Bones Scavenger Hunt
Costume Photo Contest
As an added bonus all participants and their families will have free access to the Board Games Lounge.
For more information about Unlocked Ottawa, the official website.
Unlocked Ottawa
329 March Rd, Suite 202 (2nd floor), Kanata.
613-518-1137