The Hockey Sweater: A Musical will be playing at the National Arts Centre from December 5th to 22nd.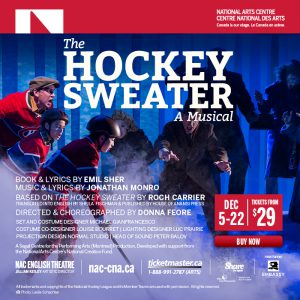 The Hockey Sweater is a musical adapted from the well known Canadian children's novel by Roch Carrier.
The beloved Canadian novel is about of a boy from Sainte-Justine, Quebec in 1946 who receives a Toronto Maple Leafs sweater instead of the sweater of the famous Montreal Canadian player Maurice Richard. The story explores what happened after he got the Leafs sweater and some of the key people in his life that helped him grow and learn life lessons.
The musical has 17 actors whom which 8 are children from all over the country and is approximately 2 hours and 15 minutes including intermission.
For more information or to purchase tickets CLICK HERE.