Join Alice and the White Rabbit for a very merry unbirthday dinner at Boston Pizza Barrhaven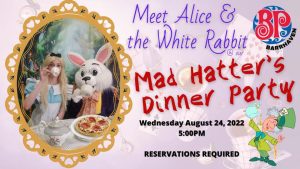 There will be one sitting at 5 pm. Make sure to reserve early to ensure you get a spot!
Alice and the White Rabbit will be interacting with guests and there will be time for games! 
The dinner will take place at Boston Pizza in Barrhaven on Greenbank Road. 
Contact 613-825-1414 to reserve your table.