For young people, and those young at heart, the Ottawa Children's Festival de la jeunesse aims to ignite creativity, imagination, and individual expression, making wide-eyed children out of us all.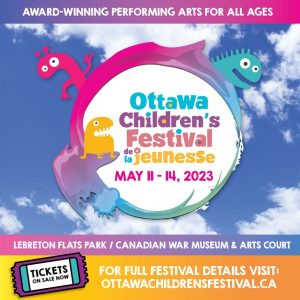 Join us at LeBreton Flats Park/Canadian War Museum and Arts Court, May 11 – 14, 2023 as we celebrate the best in performing arts from around the globe.
Ottawa Children's Festival is pleased to host the North American premiere of ZOOOM by Patch Theatre. ZOOOM has had wild success worldwide, selling out some of the largest performing arts venues available. Other performances include A Simple Space by Gravity & Other Myths and Pinocchio by Teatre Patrasket, to name a few. Brand new this year is our CECCE Tent full of Francophone programming, including Senegalese-born singer-songwriter, Élage Diouf.
Prices: $10-20, special rates available for families (4+) and groups (10+)