October is just around the corner and there are TONS of activities for your children to enjoy to celebrate fall and get ready for Halloween!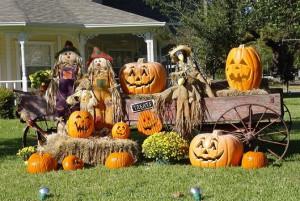 The Annual Biology Butterfly Show is on from Saturday September 30th to October 8th from 9am to 4pm (3pm on weekends) in the greenhouses of Carleton University's Biology Department. This exhibition features nonetheless than 1,300 exotic butterflies!! Bring your kids and your cameras to enjoy this FREE exhibit because some butterflies love to land on colourful clothing or some will climb on your hand if you put it underneath them.
The Ottawa Parent Parent and Child Expo is a fun, informative & affordable weekend for the whole family! It will take place October 28th & 29th 2017 at the Nepean Sportsplex. Parents will find a variety of their favourite Ottawa exhibitors offering important parenting information, and kids will find Dora the Explorer  for a meet and greet, onstage musical performances, as well as friendly-mascots to hug, robotics, princesses, and a variety of other activities including gymnastics demonstrations, face painting, arts and crafts activities. Tickets are just $10 for a family of four.
If you are up for a short drive, Upper Canada Village has it's annual Pumpkinferno starting September 29th with over 6,000 hand-carved pumpkins and this year specially designed Canada 150 themed pumpkins! It's open Thursday to Sunday from 7 to 10 pm and Thanksgiving Monday.
From September 28th to October 1st, the Metcalfe Fair will be on with a demolition derby, live music, children's entertainment in the Kidzland Tent & a Western Horse Show.
The Ottawa Geek Market is a great event for kids. It will take place Saturday September 30th and October 1st 2017 at the Nepean Sportsplex and is a celebration of sci-fiction, comic books, fantasy, anime, steampunk, and gaming. The event will feature over 100 vendors, a video gaming section, board gaming section, face painting, costumes, a big Lego play area and so much more. Tickets are $5 in advance or $8 at the door, and kids 12 and under are free.
Enjoy a day or afternoon visiting pumpkin patches or apples orchards in the Ottawa area.
Enjoy the best autumn has to offer at the Watson Mill's Harvest Festival on Saturday October 7th with wagon rides, children's crafts, a scavenger hunt, live music and many other traditional fall activities.
Celebrate Autumn at Mont Cascade at the Cascade Colourfest with tons of activities for the whole family to enjoy. Event takes place October 7th and 8th from 10am to 4:30 pm and will have makeup artist for kids, inflatable games, local arts and crafts, music and the ski lift will be operational from 10am to 4:30pm for a panoramic view.
Experience the spectacular fall colour this fall at Camp Fortune's Oktoberfest! Open from 11am to 5pm every weekend from September 30th to October 22nd and Thanksgiving Monday October 9th. Kids can enjoy live music, bouncy castle & inflatable obstacle course and face painting on October 7,8 & 9. You can also enjoy a scenic chairlift ride from September 30th to October 15th (5$ per person).
Haunting Season at Saunders Farm is from September 23rd to October 31st with a haunted hay ride, play structures, a jumping pillow, the Vintage Carnival, the barn of terror, puppet shows, 7 hedge mazes, a pedal cart racetrack, Ghost Town Stage and the Witch Mountain Slide.
Proulx Berry Farm in the East end will be hosting their 23rd Annual Pumpkin Fest every Saturday and Sunday & Thanksgiving Monday 10am to 5pm from September 24th through to October 31st with face painting, inflatable bouncies, a Halloween costume contest, an art contest, pyramids, wagons rides through the mysterious forest, haunted mazes, 2 haunted houses, a petting farm and pick your own pumpkin.
Do you know of any other great activities or events happening in October in and around Ottawa? Join the conversation in our comments section below.