Nepean High School's Drama Department is excited to bring an original Children's Theatre piece to Dovercourt Recreation Centre! The performance is on Saturday, May 11, 2019. The first show is at 12:30 pm, and the second show is at 2:00 pm.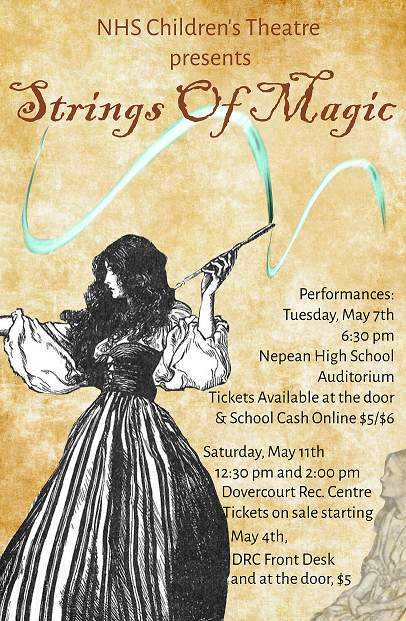 Strings of Magic is appropriate for children aged 5-12, children must be accompanied by an adult.Tickets can be bought for $5 at the main desk at Dovercourt Recreation Centre starting May 4th. No assigned seating.
Play Synopsis:In a country far, far away, a long, long time ago an evil Queen banned all that is fun, especially magic. When our play begins, we see four children practicing magic in secret, in spite of the laws forbidding it. By mistake, they turn one of their group into a puppet. To avoid being caught, they need to turn their friend back into a human, so they flee their village and go on a quest to find the Great Sorceress. Rumour has it that she has the strongest powers in the land and they believe that only she can help them. The many characters the children meet along the way help them find their strengths, confront the evil Queen, and restore happiness to the land.