With this heat, it's a great idea to go cool off at a local splashpad! Here are the top 5 splashpads in Ottawa.
Brewer Park Splashpad in Ottawa
Brewer Park Splashpad is by far one of the best park in the city! The splash pads has tons of water fountains, water jets and buckets and the best part is that it's on 2 levels that are connected by a water slide!! This splashpad is sure to be a hit with the kids!
If your kids need a break from the splashpad, there are tons of play structures close by as well as several gazebos with tables for picnics. There are also public washroom facilities close by with a water fountain to stay hydrated.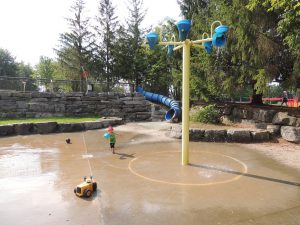 Celebration Park Splashpad in Ottawa
Celebration Park Splashpad is a perfect splashpad for families with young children located in a large park. The splashpad is very spacious and features a spraying post, a spray loop, and a tall post with a bucket and a flower that splash water down on you. There is a gazebo right besides the splashpad so you can be in the shade while keeping an eye on your little ones.
The park itself has 2 play structures close to the splash pad.
Millenium Park Splashpad in Orleans
Millenium Park Splashpad was recently inaugurated. It is the best splashpad in the East end of the city. This pirate themed splashpad features a pirate tipping bucket, a dragon spray and tons of jets and fountains to keep cool. There is also a gazebo right beside the splashpad which is perfect to take a break from the sun!
The park itself features two awesome play structures that will amaze kids, a pirate ship and a "castle" which is really a replica of the Parliament buildings.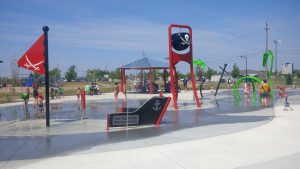 Walter Baker Park Splashpad in Kanata
Walter Baker Park Splashpad is a fun splashpad located in a beautiful park! It features a water cannon, a tall dome and four fountain sprays for your kids to stay cool during hot weather.
The park also has two play structures, an awesome hill to climb and a beautiful pond to explore if you need a break from the splash pad. The park also has plenty of shade as well as picnic tables.
Lansdowne Park Water Plaza in Ottawa
Lansdowne Park Water Plaza was inaugurated in the summer 2015 and features a piece of art called Uplift made in granite as well as 55 arcing water jets that spout intermittently and in patterned sequences, keeping people guessing about who will get wet next. There is also a very shallow water basin to cool off your feet.
The water plaza is located on the East side of the Great Lawn that is a huge green space great for family picnics. You will also find play structures as well as basketball courts close by.
Do you have any other splashpads that you love to go to? Join the conversation in the comment section below.