The Ottawa area has many hiking trails for family to enjoy fresh air and get connected with nature!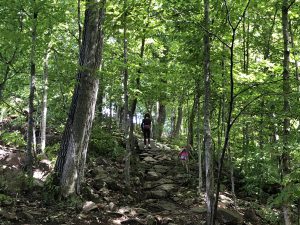 Pink Lake is probably one of the Gatineau Park's most popular hike and takes about one hour to complete. Although, the trail is a bit long and has many stairs (not stroller friendly!), the kids love it because it goes around a lake (Pink Lake). The trail is very peaceful and kids (and adults) will learn a lot about it's ecology while walking around the trail. To preserve Pink Lake, it is unfortunately not possible to bring a pet along on the trail.
Mer Bleue Bog trail is part of the Mer Bleue Conservation Area in the Greenbelt. It's a great family hike where kids can walk on the boardwalk, bird watch all while learning about significantly rare birds, plants and other wildlife. 
3/ Conroy Pit Loop
Conroy Pit loop is a perfect hiking area for families with young children as it is relatively flat and stroller friendly. It also features an off-leash dog park. The loop is 3.2 miles. 
4/ Lauriault Waterfall Trail
Lauriault Waterfall Trail is located in the Gatineau Park and is about 3.2 miles long. The beauty of the trail is at the end with the Lauriault Falls, who are also known as Bridal Veil Falls. There is a bench at the waterfall which is perfect snack stop. At the end of Lauriault Trail there is a lake (Mulhivill Lake) which has a picnic area and a wooden dock, a great place to enjoy a well deserved break!
Sugarbush trail is considered one of the best trails for toddlers. It takes about 45 minutes to complete, has no steep slopes, is stroller friendly, is located close to the visitor centre with indoor bathrooms and water fountains. It is also possible to hike on Sugarbush trail in the winter, it is regularly mechanically groomed. It also has a picnic area. 
Jack Pine Trail is located in Nepean in the Stony Swamp Sector. The trail is divided in 3 loops (short, medium and long) and has interpretation panels along the way. Jack Pine Trail is home to many different bird species as well as over 560 native plant species. 
Chapman Mills Trail is located in a 23 acre of conservation land. It features walkways, boardwalks and trails that guide visitors through some beautiful habitats. 
Stony Swamp sector has over 40kms of trail, which is more than any other area in the Greenbelt! With its beaver ponds, wetlands and forests it is the most ecologically diverse protected area in the Ottawa Valley. 
Terraces Trail is a 2km trail located in Fitzroy Provincial park. It features 100 year old white pines and a sparkling waterfall. 
Mud Lake is located along the Ottawa River and is a habitat for a wide diversity of animal species.  It is also recognized as a popular birdwatching site.