The 36th edition of the Gatineau Hot Air Balloon Festival 2023 will be held from Thursday August 1st to Monday September 4th 2023 at La Baie park in Gatineau. Come with your children to watch a spectacular hot air balloon lift off or simply enjoy any of the shows and activities offered during the weekend.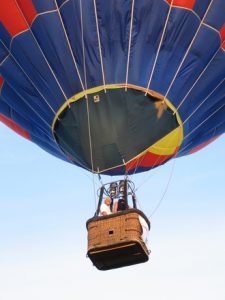 The Gatineau Hot Air Balloon Festival is the biggest summer event in the Outaouais.
Family activities include:
Are your kids a video game lover? If yes, they can discover the Mobile Arcade!
Watch hot air balloon take off every morning and evening
Attends the incredible hot air balloon night glows every night, conditions permitting
Fireworks every night around 10:15pm (Thursday to Sunday)
Have fun on the rides at the Beauce Carnaval Amusement Park
Visit the inside of a hot air balloon (subject to weather conditions) on Saturday, Sunday and Monday from 10:30am to 4pm.
Come to the GPW-LPG wrestling gala Saturday and Sunday from 2pm to 5pm
Come to the lift-off area to discover the car show on Saturday and Sunday from 2pm to 4pm
Meet the hot air balloon pilots Saturday and Sunday from 2pm to 4pm
Attend family-friendly performances including Atchoum, Les petites Tounes, Atlas-GeoCircus and Dance Show.
Artists performing this year include: Ne-Yo, Roxane Bruneau, K.Maro, Ludovick Bourgeois and many more!
For more information on the Gatineau Hot Air Balloon Festival 2023, the official website