This December, Ottawa Pops Orchestra (OPO) channels the Force to bring you three epic evenings filled with the music of Star Wars.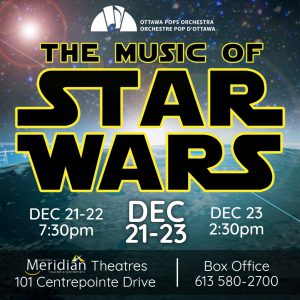 Join Ottawa Pops Orchestra as they celebrate the musical legacy of John Williams and his contributions to one of the most enduring film franchises of all time with a program that will excite new and old fans alike!
Program suitable for all ages- families with young children are encouraged to attend.
The show will be held December 21st at 7:30pm, December 22nd at 7:30pm and December 23rd at 2:30pm. For more information or to purchase tickets: Meridian Theatres official website.